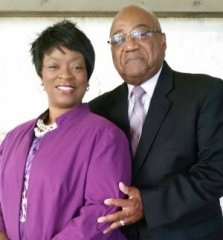 About Us
Reverend Elmo Winters, MBA in ministry for over 40 years has served as a Church Planter, Senior Pastor, Bible School Teacher, Short-term Missionary and Hospice Chaplain.
Possessing a powerful passion for people, regardless of race or ethnicity, Reverend Winters has actively shared the reconciling Gospel of Christ throughout the world. He has planted churches and trained pastors in Russia, Kenya, Mexico and the US.
Reverend Winters, through the teaching of God's Word and his books, "Growing by Going" and "Overcoming Racial and Cultural Barriers to Disciple Men" has impacted many lives. He boldly addresses racial bigotry, discrimination, and other related issues.
He travels the world, speaking to churches, ministries and men's groups on a variety of subjects.
Reverend Winters currently serves as the staff pastor of community impact at The Church International in Baton Rouge, LA. 
Reverend Winters is married to Therese Hill Winters. They have three sons, two daughters, and nine grandchildren.
The KINGDOM Group is a collaborative of ministries committed to changing our world by changing hearts with the Gospel of Christ. We operate based on the following guidelines:

VISION: Changed hearts and renewed minds building ONE community!

MISSION: Promote engaging dialogue, meaningful interaction, and diverse relationship building!

VALUES: Modeling the love of Christ; Sharing the Gospel of Christ; and Making disciples of Christ!

The KINGDOM Group is comprised of…
KINGDOM PUBLISHING PROJECT – focuses on producing books and material that globally promote evangelism, reconciliation, and diversity.
KINGDOM GLOBAL EVANGELISTIC PROJECT – actively fulfills the Great Commission by bringing the Gospel of Christ to the world through missionary activities and support.
KINGDOM WORLD UNITY PROJECT – biblically addresses the issues of worldwide racial divisiveness with effective programs and activities promote unity.
Mailing address
8733 Siegen Lane, Suite 141
Baton Rouge, LA  70810